Death Rides the Range
---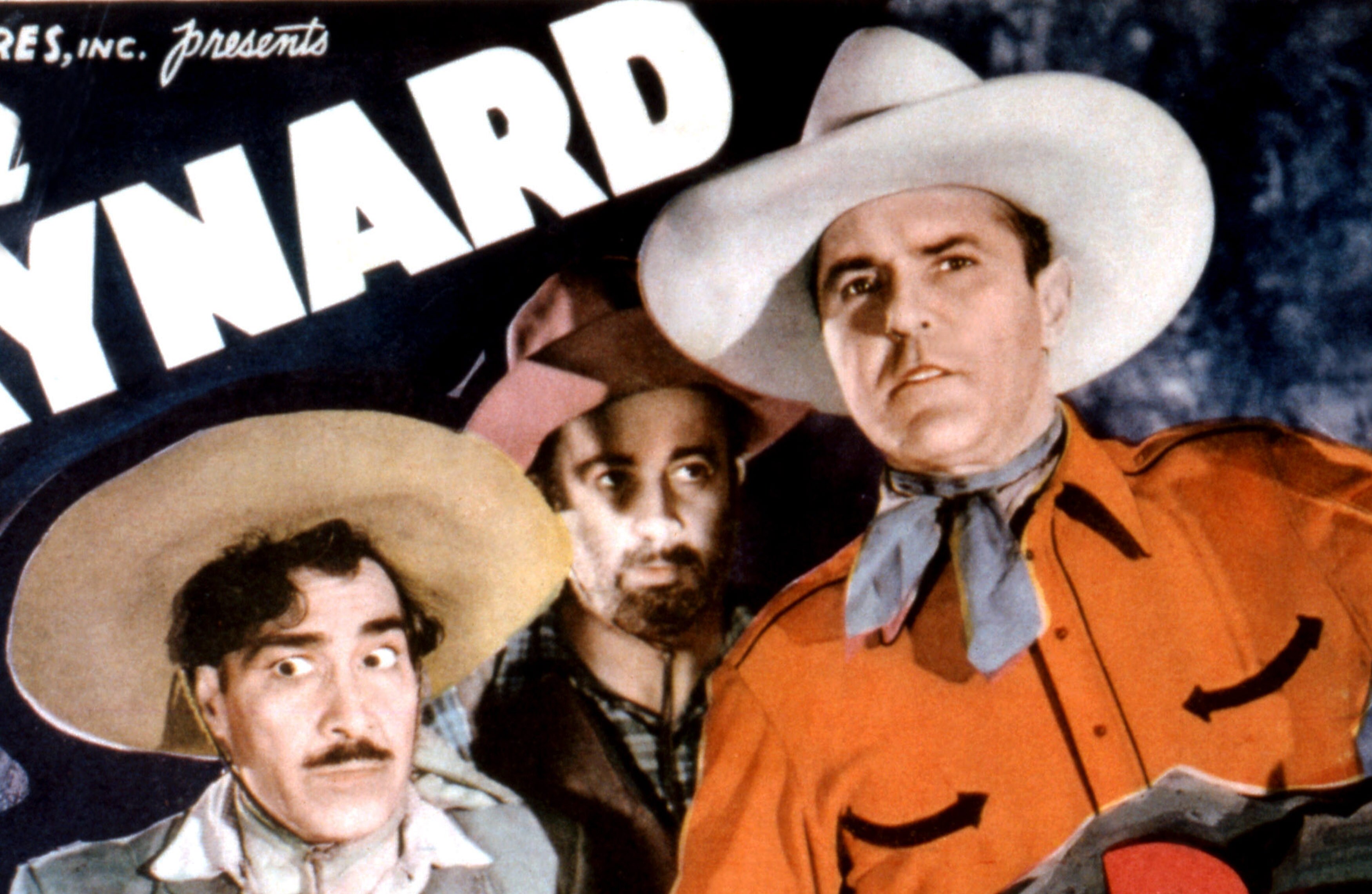 Film Details
Genre
Release Date
Jan 1940
Premiere Information
not available
Production Company
Colony Pictures, Inc.
Distribution Company
State Rights
Country
United States
Technical Specs
Duration
58m

Synopsis
As cowboys Ken Baxter, Panhandle and Pancho sit around their campfire, an injured man stumbles into camp and incoherently mumbles something about being pushed off a cliff. The trio decide to take him to the Blue Mesa Trading Post for treatment. At the post, they meet Hiram Crabtree, the irascible owner of the establishment, his niece, Letty Morgan, the Baron Starkoff, and archaeologist Dr. Flotow. Flotow identifies the injured man as Dr. Wahl, a fellow archaeologist, and just as Wahl begins to whisper something about a hidden cave, the room goes darks and Wahl is murdered. Ken sends for the sheriff, but when the lawman abandons the investigation, Ken rides to the town of Mountain View to find Letty. At the Mountain View saloon, Ken meets Joe Larkin, the owner of the Tin Cup Ranch, who hires the cowboy to evict his neighbors at the Lazy Y Ranch from a shack that he claims is on Tin Cup land. That night, the baron rides to the cave, and Flotow follows and accuses him of killing Wahl. In response, the baron offers to work with Flotow in reclaiming the shack, which is the key to the secret of the cave. The next day, as Ken rides to the shack, he is shot at by its occupants. Stealing into the cabin, Ken discovers Panhandle and Pancho, who have been hired by Lazy Y owner Jim Morgan, Letty's brother, to hold the shack. While investigating strange noises coming from the chimney, Ken and the boys discover the cave which leads to a helium gas well used in fueling enemy airships across the border. There they also find Flotow's dead body. Meanwhile, the baron, who has killed Flotow, orders his man Larkin to take control of the shack or die. When the parties involved learn that the government owns the land and that it is therefore open to filing, Ken, Larkin and Morgan all race to stake their claim. After Ken wins the race, the baron tries forcibly to seize the land, but he is arrested by the sheriff, who reveals that Ken is an undercover FBI agent. Ken then explains that the baron, in his desire to gain the helium gas for his country, killed both Flotow and Wahl.

Film Details
Genre
Release Date
Jan 1940
Premiere Information
not available
Production Company
Colony Pictures, Inc.
Distribution Company
State Rights
Country
United States
Technical Specs
Duration
58m

Notes
Modern sources add Murdock McQuarrie, Wally West, Dick Alexander, and Bud Osborne to the cast.