The Babe Ruth Story
---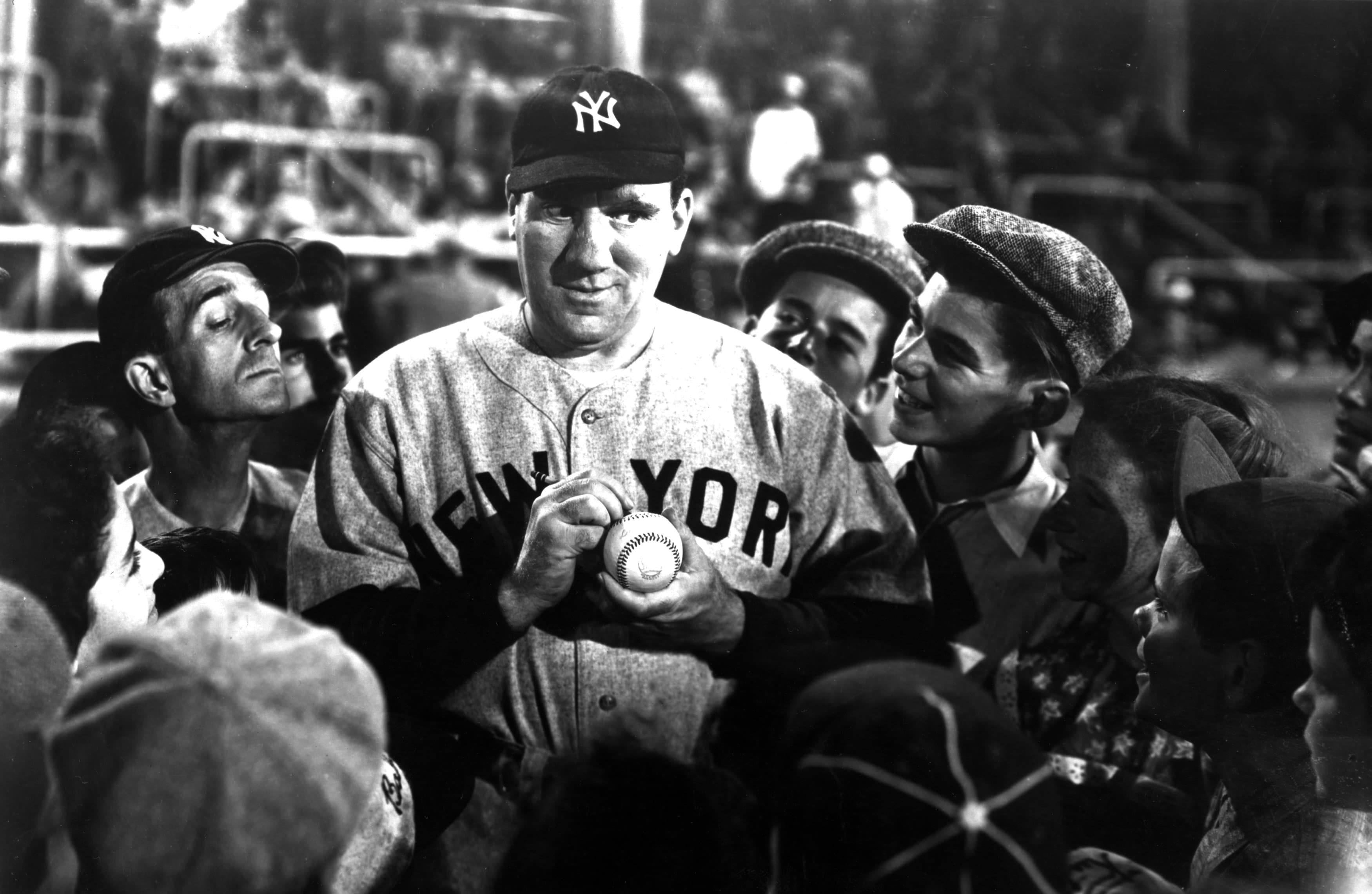 Brief Synopsis
A childlike oaf becomes the greatest star in baseball.
Film Details
Genre
Release Date
Sep 6, 1948
Premiere Information
World Premiere in New York: 26 Jul 1948
Production Company
Allied Artists Productions, Inc.
Distribution Company
Monogram Distributing Corp.
Country
United States
Screenplay Information
Based on the book The Babe Ruth Story by Babe Ruth, as told to Bob Considine (New York, 1948).
Technical Specs
Duration
1h 46m
Sound
Mono
Color
Black and White
Theatrical Aspect Ratio
1.37 : 1

Synopsis
In 1906, on the Baltimore, Maryland waterfront, motherless George Herman Ruth, who works in his father's saloon, is sent back to St. Mary's Industrial School, which is run by Brother Matthias. By 1913, George's great enthusiasm and talent for baseball are apparent, and he is hired as a left-handed pitcher for the minor league Baltimore Orioles by manager Jack Dunn, who gives George the nickname "Babe." In 1914, after winning twelve consecutive games, Babe is sold to the Boston Red Sox. During a losing streak, Babe meets a chorus girl named Claire Hodgson, who tells him that he has been telegraphing his curve balls by sticking out his tongue just before the pitch. Taking Claire's observations to heart, Babe goes on to strike out the legendary outfielder for the Detroit Tigers, Ty Cobb, and helps the Red Sox win three world championships. In 1918, Babe breaks records by pitching twenty-nine consecutive scoreless innings of World Series baseball. Babe is then given a two-year, $10,000-per-season contract with the Red Sox. During Red Sox training camp in Tampa, Florida, Babe hits the longest home run in the history of baseball--600 feet--and then inspires a crippled boy who had watched the game to stand for the first time. As a result, Babe quits pitching and becomes a left fielder. In 1919, Babe breaks all records by hitting twenty-nine home runs in one season, and in 1920, is sold for a record six figures to Colonel Jacob Ruppert, owner of the New York Yankees. Two seasons of record home runs follow, but Babe becomes increasingly dissolute off the field, enraging Yankee captain Miller "Hug" Huggins. After missing a game while helping a little boy's dog, which he injured at Comiskey Park, Chicago, Babe is fined $5,000 and suspended for two weeks. Although newspaper headlines dub Babe "the bad boy of baseball," he continues to help unfortunate children. One Christmas Eve, kids in a New York children's hospital eagerly await the arrival of Babe dressed as Santa Claus. He arrives drunk, however, and runs into Claire, who scolds him for setting a bad example for the millions of children who idolize him. That year, the Yankees finish in seventh place, and when Yankee executives decide to fire Babe, Hug defends him, saying that Babe saved baseball after the White Sox World Series scandal of 1919 caused the public to lose faith in the sport. At age thirty-two, Babe is broke and ready to give up baseball, until Brother Matthias points out to him that if crippled children never give up, how can he? Claire agrees to stick by him, and the day before the 1927 season ends, Babe breaks his own record yet again by hitting fifty-nine home runs. Babe becomes engaged to Claire, and the Yankees go on to win the 1927 World Series. When Claire and Babe return from their honeymoon, they learn that Hug has just died. Later, in Chicago, during a 1932 World Series game between the Yankees and the Cubs, Babe visits a dying boy named Johnny and promises to hit him a home run to the centerfield bleachers. As Johnny listens over the radio, Babe calls his shot, and the boy lives. Finally, in 1935, after twenty-one years in baseball, Babe retires. The following year, after being hospitalized for three months, Babe is given three weeks to live unless he tries an experimental serum that could prove fatal. With Brother Matthias and Claire at his side, Babe accepts the risk so that others with his disease might benefit from the serum. As Babe is wheeled into the operating room, boys all over America continue playing the game of baseball.

Film Details
Genre
Release Date
Sep 6, 1948
Premiere Information
World Premiere in New York: 26 Jul 1948
Production Company
Allied Artists Productions, Inc.
Distribution Company
Monogram Distributing Corp.
Country
United States
Screenplay Information
Based on the book The Babe Ruth Story by Babe Ruth, as told to Bob Considine (New York, 1948).
Technical Specs
Duration
1h 46m
Sound
Mono
Color
Black and White
Theatrical Aspect Ratio
1.37 : 1

Trivia
The film was rushed for release while Babe Ruth himself was still alive, which is why the movie ends the way it does. Ruth died shortly after the premiere, which he attended.
The scene at Yankee Stadium was shot hours before a real game was scheduled, and Babe came from his death bed to see it.
William Bendix actually hit a ball over the right field fence (and was the first actor to do so).
Notes
Excerpts from Babe Ruth's book appeared in The Saturday Evening Post from 14 February to April 3, 1948 under the title My Hits, and My Errors. The film opens with a prologue, narrated by Knox Manning, showing the Baseball Hall of Fame at Cooperstown, NY. As a group of boys look at Babe Ruth memorabilia, many of the sport's most prominent past players are discussed. Manning also provides a voice-over narration at several junctures in the story and narrates a brief epilogue in which boys are seen playing baseball, inspired by "The Babe's" example. Onscreen credits acknowledge three newspaper caricatures used in the picture: Burris Jenkins, Jr. for "Stomach Ache Felt Around the World" and "The Big Wind"; and Gus Uhlman and the New York Post for "Life Begins at 41." In addition to the above listed music, songs heard in part in the film include, among others, "Singing in the Rain," music by Nacio Herb Brown, lyrics by Arthur Freed; "I'm Nobody's Baby," music and lyrics by Benny Davis, Milton Ager and Lester Santley; and "Wait Till the Sun Shines, Nellie," music by Harry von Tilzer, lyrics by Andrew B. Sterling.
Except for the statistical facts of his career, the filmmakers purposely fictionalized certain events in Ruth's life. As depicted in the film, George Herman "Babe" Ruth (1895-1948) was born in Baltimore, MD, and after being abandoned by his parents as a young boy, was sent to a Catholic industrial school. From 1914-1919, he pitched successfully for the Boston Red Sox, then became an outfielder for the New York Yankees. Ruth led the Yankees to seven pennants, and Yankee Stadium, which was built in 1923, became known as "the house that Ruth built." During his twenty-two seasons with the Red Sox, Yankees and Boston Braves, Ruth led the league in home runs a record twelve times. Ruth retired in 1935 with 714 career home runs, a record not broken until 1974. In 1936, he was elected to the Baseball Hall of Fame as one of the first five charter members. Ruth's first marriage was left out of the film, reportedly because of his wife's tragic death. (Modern sources, however, claim that Ruth's second wife insisted that his first wife not be mentioned in the film.) The story of how Ruth met and pursued his second wife, a showgirl, was fictionalized. Although the film does not state from what illness Ruth was suffering, he died of throat cancer on August 16, 1948, just before this film's general release. The New York Times review stated that the film "has much more the tone of low-grade fiction than it has of biography." Regarding the picture's ending, the review said, "a tedious and tasteless sick-bed ordeal, with sound-track sobs and angel voices, ends the show." Miller Huggin was the manager of the Yankees from 1918-1929.
In August 1941, Hollywood Reporter announced that producer Mark Hellinger was negotiating with writers Sandy Mock and Hal Levy for their original screenplay King of Swat, which was based on the life of Ruth. After months of negotiations with independent producer Hal Wallis and Republic Studios, among others, Ruth gave Monogram Pictures the rights to his story. Republic reportedly backed out after Ruth asked for $150,000 plus a percentage of the film's profits. Co-screenwriter and co-author Bob Considine was a well-known sports writer. According to an article in the Los Angeles Times, William Bendix, who was borrowed from Hal Roach's company to appear as "the Babe," was chosen by Ruth himself. Among those considered for the role were Orson Welles, Jack Carson, Dennis Morgan and Paul Douglas. According to an article in New York Times, Bendix's casting was controversial because of his physical dissimilarity to the Babe. In Bendix's defense, the film's producers stated that because of Ruth's illness and other considerations, he could not appear as himself, so they chose an experienced actor over an unknown look-alike in an attempt to add authenticity to the part. Bendix was a natural choice, the producers said, because he grew up in New York City at 140th Street and Edgecombe Avenue, worked for several years for the Yankees at the Polo Grounds as a turnstile boy, bat boy and locker room boy, and personally witnessed almost one hundred of Ruth's home runs. The film required Bendix to learn to bat left-handed and to pitch "southpaw." Bendix's makeup included a plastic nose, which broadened his nostrils.
According to a August 12, 1991 article in the Los Angeles Times, former Chicago Cub pitcher Charley Root, against whom Ruth allegedly "called his shot" with a Series home run at Wrigley Field, was invited to appear in this film when production began in 1947. Ruth biographer Robert Creamer claimed that Root refused a role on principle because, he maintained, Ruth did not signal a home run by pointing to the centerfield seats (as portrayed in the film), but merely made an umpire's strike-call gesture. Although Nana Bryant is listed in the CBCS, she was not seen in the final film. The CBCS lists Barton Yarborough as portraying both a "father" and a "doctor" in the picture; it is not known, however, if that actor played both of those roles. In the CBCS, both Wally Scott and Paul Bryar are listed playing a character named "Sam," and Wally Scott is also listed playing a reporter. It is not known if both actors appear in the film as "Sam," or if Scott appears in a double role.
An undated article in Los Angeles Daily News adds the following information about the production: A duplicate portion of Yankee Stadium was erected at the Enterprise studios for close-ups at the plate, on the mound, and at the bases, as well as for dugout and crowd scenes. The action baseball shots were filmed at Wrigley Field, Chicago. Background location shots include St. Mary's Industrial School for Boys in Baltimore, MD; Fenway Park in Boston; Yankee Stadium, New York; Forbes Field in Pittsburgh, PA; and Comiskey Park, Chicago. Wardrobe chief Dick Bachler collected 273 uniforms representing ten major league teams to dress the various baseball-playing extras, who were culled primarily from local college teams.
A May 1, 1948 Los Angeles Daily News news item noted that Ruth came to Los Angeles to visit the set of the film. Although he had become quite ill by the time of the picture's completion, Ruth left New York's Memorial Hospital to attend the film's world premiere at the Astor Theatre and, according to the Los Angeles Times review, suffered a relapse during the screening. Proceeds from the premiere went to the Babe Ruth Foundation, a charity Ruth endowed to benefit the children of America. In March 1951, the film had a successful re-issue in Japan, where Ruth had toured with the Yankees in the 1920s. Reportedly, schools were being closed in some areas to allow children to attend the film.
Other films about Babe Ruth include the 1991 made-for-television movie Babe Ruth, which was broadcast on the NBC network and was directed by Mark Tinker and starred Stephen Lang, Brian Doyle-Murray and Pete Rose as Ty Cobb; and The Babe, a 1992 Universal film, directed by Arthur Hiller and starring John Goodman and Kelly McGillis. In addition, Ruth appeared as himself in Samuel Goldwyn's 1942 film The Pride of the Yankees .